Halal Certification Europe (HCE) (formerly known as: The Muslim Food Board ( UK ))

Halal Certification Europe (HCE) is an independent non-profit making organisation. It was established to formalise the investigation and Halal certification of food, cosmetics and pharmaceutical products.

Phone: +44 (0) 116 273 8228

Email: info@halalce.com

Website: www.HalalCE.com

http://www.halalce.com/halal-certification/halal-certification-process

Halal Certification Process

1. Halal Certification Application

Apply online using 'Online Halal Certification Form'
Application form submitted
Quotaton provided
Certification Agreement to be signed
All documents and applications to be sent

2. Evaluation Activities

Detailed vetting of documents and additional information
On-site audit to ensure compliance with Halal standards
Laboratory testing of products when necessary

3. Halal Certification

Halal certification status letter send after certification decision committee has evaluated application
Halal Certificate issued for approved products only
The overall certification period will last for three years
Maintenance of certificate issuing will be subject to satisfactory surveillance audit, after the initial period
Decisions for granting, maintaining, extending, reducing scope, suspending or withdrawal certification will be based on conformance to HCE Halal Standards

4. Suspension or Withdrawal of Certification

HCE has the right to suspend or withdraw a Halal Certificate. Reasons for withdrawal include: improper use of reference to HCE or improper use of the halal logo; or failure to meet the requirements of halal standard; or failure to comply with the contractual agreement




See: http://www.halalce.com/halal-certification/halal-certification-process




Halal Food Authority (HFA)

Halal Food Authority (HFA) is an independent, voluntary non-profit organization and the trading arm of the Halal Food Foundation charity. Food Authority (HFA) is involved in the supervision, inspection, audit, certification, and compliance of halal principles and practices in the UK food and beverages industry.

Address: 3rd Floor, Balfour House,741 High Road, London N12 0BP, UK

Phone: +44(0)2084467127

Email: info@halalfoodauthority.com

Website: halalfoodauthority.com / halalfoodauthority.net



Halal Certification Application
• Apply online using the 'Online Halal Certification Application Form'.
• Application form submitted
• Quotation provided
• Certification Agreement to be signed
• All documents and applications to be sent
Evaluation Activities
• Detailed vetting of documents and additional information
• On-site audit to ensure compliance with Halal standards
• Laboratory testing of products when necessary
Halal Certification
• Halal certification status letter sent after certification decision committee has evaluated application.
• Halal Certificate issued for approved products only
• The overall certification period will last for three years.
• Maintenance of certificate issuing will be subject to satisfactory surveillance audit, after the initial certification period.
• Decisions for granting, maintaining, extending, reducing scope, suspending or withdrawal of certification will be based on conformance to HCE Halal Standards.
Suspension or Withdrawal of Certification
HCE has the right to suspend or withdraw a Halal Certificate. Reasons for suspension or withdrawal include:
• Improper use of reference to HCE or improper use of the Halal logo
• Failure to meet requirements of Halal standard
• Failure to comply with the contractual agreement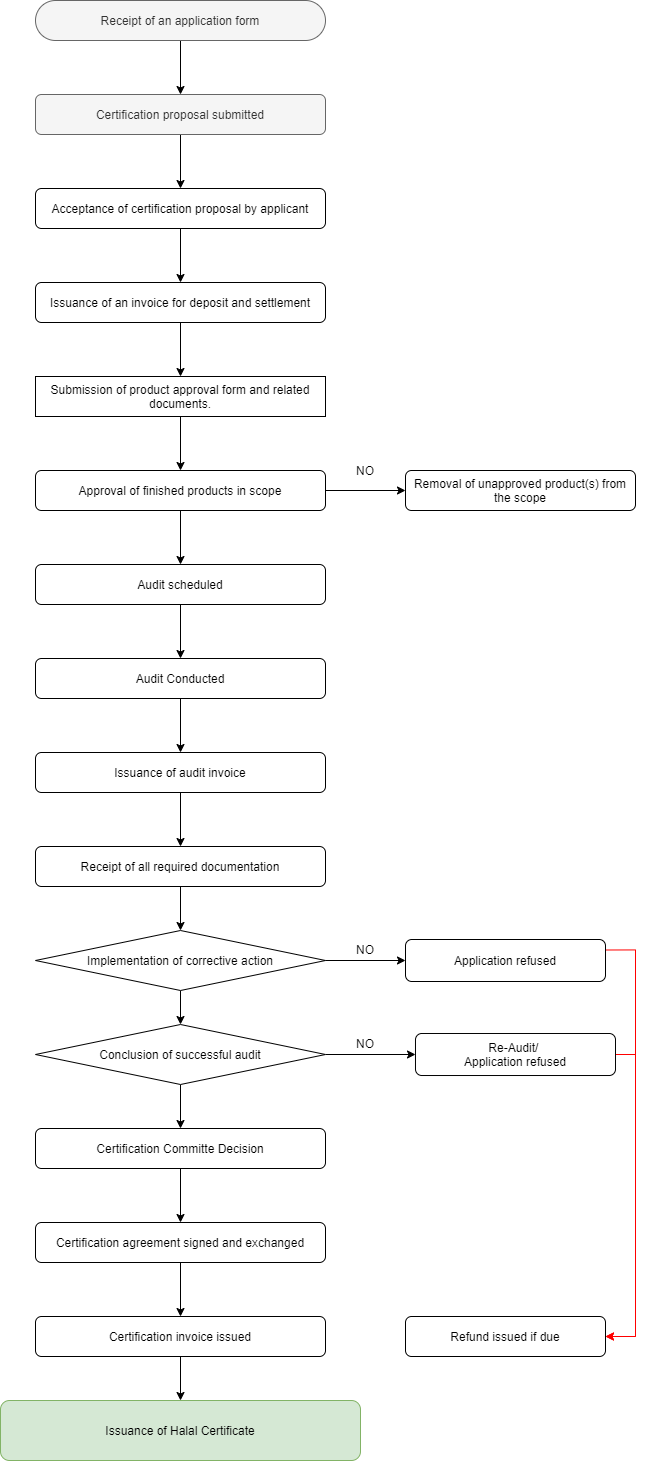 ---
References
Halal Food Authority
https://halalfoodauthority.net/
HFA Certification Portal
https://hfa-portal.com
HFA User Guide
https://hfa-portal.com/Demou/Portalinstructionsguide.pdf
Halal Certification Europe
http://www.halalce.com/
HCE Certification Process
http://www.halalce.com/halal-certification/halal-certification-process
JAKIM Recognised Foreign HALAL Certification Bodies & Authorities
http://www.halal.gov.my/v4/ckfinder/userfiles/files/cb2/LATEST%20CB%20LIST%20-%20AS%20OF%20FEBRUARY%2013TH%202019.pdf