Emirates Authority for Standards & Metrology (ESMA)
ESMA provides for a framework for the requirement of certifiers for Halal products in the UAE. In essence, applicants need to apply to ESMA in the first instance. The accreditation process may be acquired to Halal Certification Bodies certified by ESMA. These bodies must be approved by ESMA.
---
List of Halal Certification Bodies (certified by ESMA):
1. RACS Quality Certificates Issuing Services (RACS)

RACS is an accredited and recognized body serving the inspection, verification, assessments and certification requirements of clients throughout UAE and worldwide. As a trusted partner, RACS assists in the assessment of manufacturers, retailers and distributors' products and processes for compliance with regulatory, quality and performance requirements.
Halal Certification Procedure:
1. Preparatory steps:
A quotation will be sent to applicant by Operations Manager; containing the scope of certification and fees related to each step of the certification process.
Administrative assistant will review it to check documents availability on a primary basis.
Payment shall be done by applicant.
Self-assessment checklist and application form shall be submitted by applicant to RACS, submission can be done via RACS affordable communication methods (i.e., mail, email, hard copy, website, e-system etc)
2. Application review:
Application along with related supportive documents will be received by RACS Conformity Manager who shall assign one of RACS technical team members (Conformity Officer: Evaluator / Auditor).
Upon acceptance of quotation by client, he is requested to sign the certification agreement.
3. Application Evaluation:
Conformity Officer shall perform conformity assessment (Evaluation) steps related to the certification scheme.
Detailed documents review for all the documents.
Document review includes the check up for Test Reports parameters and results that is done by a 3rd party laboratory according to the specific technical regulations and applicable standards.
Evaluation of product is to ensure halal compliance according to applicable schemes and standards.
4. Decision of Certification:
Upon submission of the relevant information, as per the results of the review documents and upon completion of product evaluation process:
Application is approved/ declined.
Certification decision will be made by Certification Decision Committee.
Once certified, the product will be listed in RACS Certified Products registry.
The granting of the issuance of certificate of conformity will then be recognized by ESMA.
If application is rejected, RACS will inform the applicant by an official statement (Letter of Certification status) by email.
Requirements for Certification:
Requirements varies depending on the scope of certified products. The details of the documents required for certification for the scope of halal product as per ESMA requirements is based on the Self-Assessment Checklist & Supportive documents:
Application form
Brief description of manufacturing process flow chart and plant equipment lay out in the form of a halal system plan (HSP)
Certificate of export and/or authenticated free sales certificate from the country of origin
Certificate of raw materials & packaging materials from the suppliers ensuring their halal origin
Copy of halal certificate of ingredients/raw materials or copy of product specification or any other claims
Declaration of Conformity by the applicant on the Product(s) for registration using the applicant's official letterhead.
Documented proof of using any of the internationally accepted quality management system, in addition to any of the product safety management system, or good manufacturing practice (GMP) as per UAE.S GSO 22716 or any other GMP approved by ESMA related to the Halal product that globally applicable and acceptab le to the authority.
Facility Map / Factory Lay out / Farm Map standards for the product
Fees
Label art work (Artwork of the product)
Product composition & ingredients concentration report issued by the manufacturer
Table of finished/Raw materials
Test report from recognized laboratory (accredited ISO 17025) as per the requirement of applicable UAE.S GSO standard of the product
Valid Industry/Trade License (For Companies within UAE)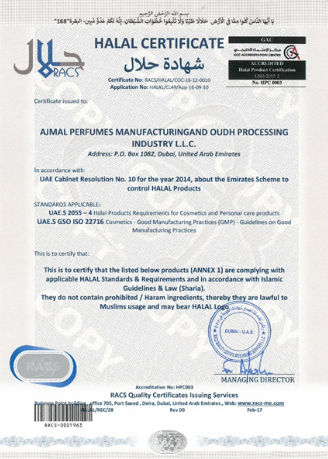 Halal Certificate by RACS
---
2. SGS Gulf Ltd

As per the GCC Standardization Organization (GSO), the SGS Gulf Ltd which is approved by ESMA is one of the bodies that can provide for halal certification of products and processes as per the GSO Harmonized Halal Standards. Further, upon the certification by SGS Gulf Ltd, food processors and suppliers can apply to ESMA for the Halal National Mark, the only approved Halal Mark in UAE permitted and controlled by ESMA.
Address: S3A1SR01, JAFZA Business Showroom, P.O. Box: 18556 Jebel Ali Free Zone - South Dubai, United Arab Emirates
Contact No.: T +97148809393
Website: www.sgs-me.com
Halal Certification Procedure:
Certification process provided by SGS Gulf Ltd
LICENSE FOR HALAL NATIONAL MARK
Halal Certified Companies in UAE and outside of UAE can apply to ESMA for the license to use the National Halal Mark.
They can apply online using ESMA website and by uploading the below documents: Technical reports (evaluation report, onsite assessment report and test report)
Valid accreditation certificate with the scope of accreditation from the accredited Halal Certification Bodies.
The technical file will be reviewed by ESMA and the decision to grant the National Halal Mark License will be done.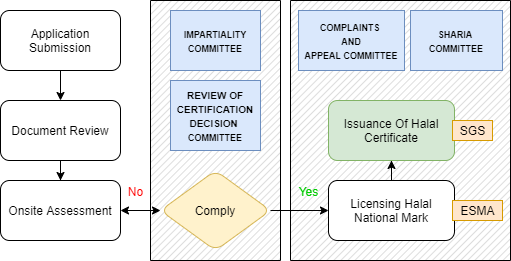 Halal certification process by SGS Gulf Ltd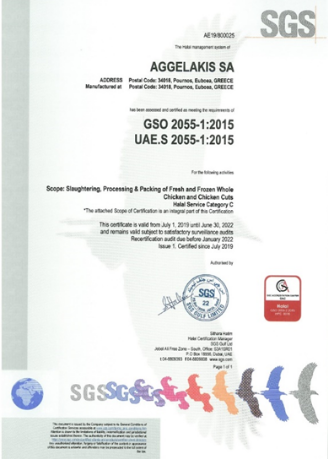 Halal Certificate by SGS Gulf Ltd
---
3. GulfTIC Certification LLC

GulfTIC is a Halal Certification Body accredited by the ENAS and Emirates Authority for Standards & Metrology (ESMA) to offer conformity assessment services and certification of Halal products intended for the GCC member countries. GulfTIC is an official third party of ESMA to offers Halal certification services of Halal products.
Halal Certification Procedure:
1. Application of service by product category and to be submit to halal@gulftic.com
2. Payment of certification fee which consists of application fee and document review fee
3. Conformity assessment by experts of reviewing all documents
4. Applicant will be notified of any findings that need immediate corrective action
5. A certificate of conformity will be issued to product that has complied with the requirements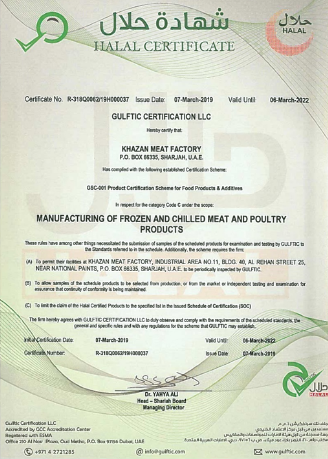 Halal Certificate by GulfTIC
---
References:
http://halal.ae/OpenData/HalalCertificationBodieswithESMA
https://www.sgs-me.com/en/agriculture-food/food/food-certification/halal-certification-middle-east
https://www.gulftic.com/halal.html
http://www.racs-us.com/halal-certification/
https://www.esma.gov.ae/en-us/Services/Pages/Halal.aspx
http://www.racs-me.com/service/halal-certification-and-uae-halal-national-mark/
https://www.agroberichtenbuitenland.nl/actueel/nieuws/2017/12/04/uae-halal-certification
https://www.halalint.org/en/halal-international-authority-achieves-gac-and-esma-accreditation