1. The Federation of Islamic Associates of New Zealand Inc. (FIANZ)

FIANZ is one of the authorised Halal certifying authorities in New Zealand. To streamline the Halal certification activities, all Halal certification related activities is conducted under the FIANZ halal brand. Many of the Halal certification industries served by FIANZ include slaughterhouses, meat processing, poultry and many more.
Address: 7-11, Queens Drive, Kilbirnie, P.O.Box 14155, Wellington 6241, New Zealand
Contact No.: +64 4 387 8023 / +64 4 387 8024
Email: info@fianzhalal.com
Website: fianzhalal.com
Halal certification process by FIANZ:
Step 1: Applicant must fill in the Online Halal Application Form based on the applicant's business type and send it to fianzhalal.com/halal-application/.
Step 2: "Application review" by the Office and Food Technologies as well as the Ulema Board Members after receiving the Application by the applicant.
Step 3: If the Application is complete, FIANZ will prepare a contract review and provides the applicant with a certification proposal and Agreement.
Step 4: Once the Agreement is accepted, FIANZ will proceed with the next step.
Step 5: FIANZ will audit as per their defined procedures.
Step 6: Involving Stage 1 - planning and document reviewing either on-site or off-site. If required, ingredients verification & product testing would be conducted off-site.
Step 7: Involving Audit Report findings - closure of any non-conformity (if any) or identification of any potential halal hazard.
Step 8: Involving Stage 2 – On-Site Verification where FIANZ will schedule an Audit date (site inspection), conducted by FIANZ Halal Auditor.
Step 9: FIANZ Halal Auditor will assess the applicant's site / products / processes and record his findings in the Audit Report. Any non-conformity will be informed so as to ensure the applicant to take proper corrective action and to be submit for re-evaluation.
Step 10: An updated Halal Audit report will be compiled by Halal Auditor / Halal Islamic Affairs expert as per site / product / process of the scientific and shariah analysis.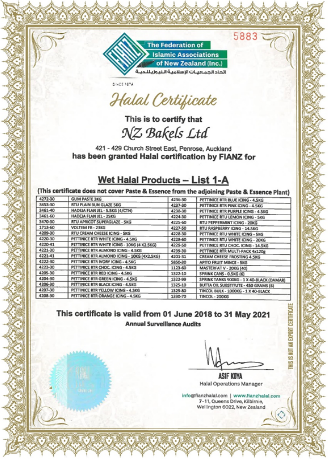 ---
2. New Zealand Islamic Development Trust (NZIDT)

NZIDT is an approved Halal Organization specializing in expert Halal certification services. The organization is recognized by the Ministry for Primary Industries under the New Zealand Halal Export Assurance System, and by all major Halal authorities in key overseas export markets. NZDIT delivers halal audit and certification services to New Zealand food industries that include red meat, diary, seafood, honey, food processing and many more.
Head Office: NZIDT Limited, Level 1, 7a Pacific Rise, Mt Wellington, Auckland 1060, New Zealand
Mailing Address: Private Bag 14946, Panmure, Auckland 1741
Tel: +6493068934 / Fax: +6493068935
Email: halal@nzidt.co.nz
Website: www.nzidt.co.nz
Halal Certification Process:
A. Pre-submission of application:
Before submitting the application, the applicant will need to determine the scope(s) of the Halal registration scheme applicable to the nature of the applicant's business (e.g., halal slaughterhouse etc) and its products (e.g., food, cosmetics, etc)
B. Application:
Step 01: Download the appplication form from website www.nzidt.co.nz
Step 02: Complete the application form and email to halal@nzidt.co.nz
Step 03: Application will be reviewed by the NZIDT audit team and a contract will be established.
Step 04: You will be contacted to arrange an audit at your premises.
Step 05: Audit report will be reviewed by the NZIDT team of experts.
Step 06: Once audit findings are finelised, Halal certification will be issued.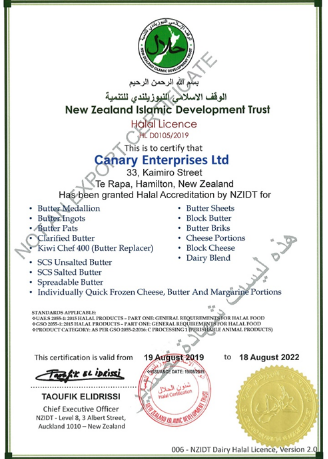 ---
References
https://www.yumpu.com/en/document/read/36995418/halal-certification-of-new-zealand-food-products
https://www.mia.co.nz/what-we-do/trade/halal/