The Halal Food Control Division Counter (BKMH) under the Ministry of Religious Affairs Brunei (KHEU) is in charge of the Halal certification of products in the country. Companies involved in food business are advised to apply for Halal Certification and/or Halal Permits. Restaurants, cafes and all forms of public eateries are recommended to apply for Halal Certification, whereas food factories and related food companies looking to package their products for sale will be required to apply for Halal Permits. Both Halal Certification and Halal Permits follow the same application procedure.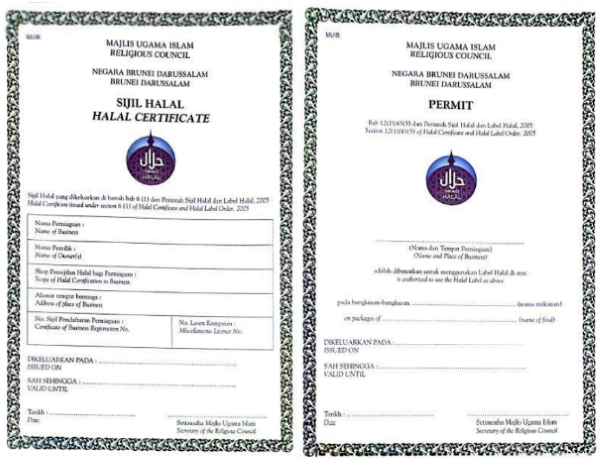 1. Obtain and Submit Application
Obtain the application form at the Halal Food Control Division counter (BKMH) or on the website of the Ministry of Religious Affairs (KHEU).
Required to appoint at least two (2) Muslim employees as Halal Supervisors. If the owner or applicant is a Muslim, then the owner is eligible to be a halal supervisor.
Completed form and required documents may be submitted at Halal Food Control Division for revision.
Address
Bahagian Kawalan Makanan Halal
Tingkat Bawah Jabatan Hal Ehwal Syariah,
Kementerian Hal Ehwal Ugama,
Jalan Dewan Majlis, BB3910
2. Halal Food Supervisor Tests
Conduct oral and written tests for Halal Food Supervisors. If passed, the supervisor will be certified by KHEU.
3. Adequacy Audit and Field Audit
Document audit to verify all supporting documents.
On-site audit conducted in the area of the applicant's premises.
KHEU will hold a meeting to review and consider the audit report. If supported, a Halal Certificate / Permit will be issued.
4. Payment and collect Halal Certificate / Permit
The certificate will be issued after the applicant has made the payment.
Payment
Tingkat 1, Bahagian Kewangan dan Perakaunan,
Jabatan Majlis Ugama Islam, Kementerian Hal Ehwal Ugama,
Jalan Dewan Majlis, BB3910

Collection
Tingkat 3, Jabatan Majlis Ugama Islam,
Kementerian Hal Ehwal Ugama, Jalan Dewan Majlis, BB3910
For more information on the application process, visit www.kheu.gov.bn or contact the application
hotline at +673-2242570/71 (ext 113) or +673-2242566/67 (ext 113) or email bkmh@mora.gov.bn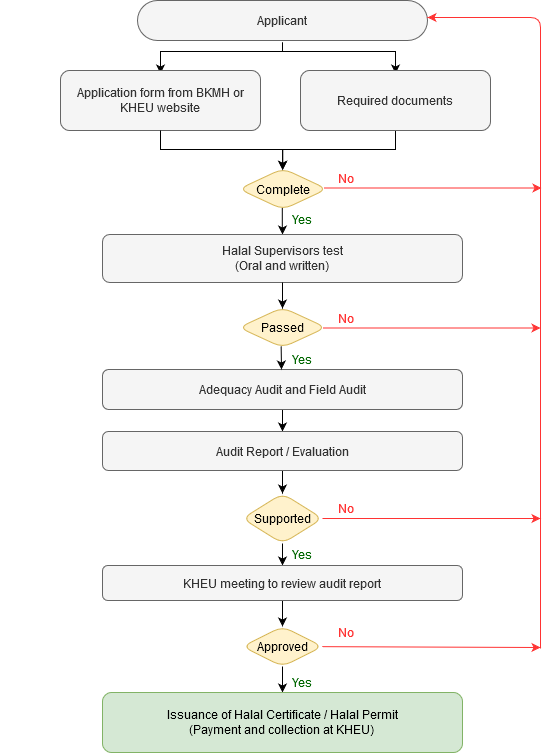 ---
References